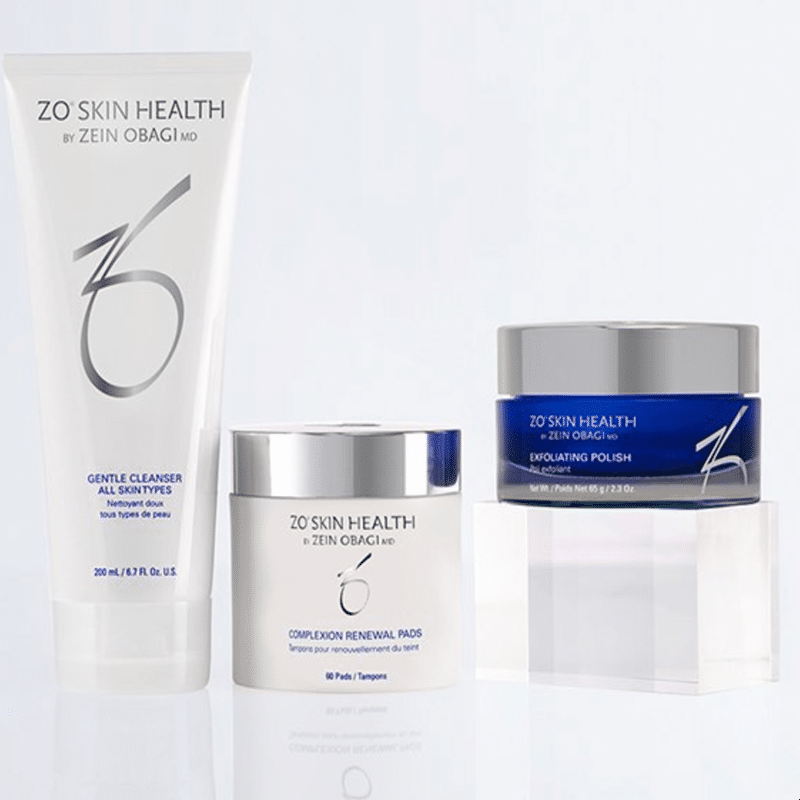 Today we are going to talk about one of my favorite skincare lines, ZO® Skin Health. I love it so much that we offer it onsite at Silhouette Health and Wellness!
We offer consultations on how to best use the products for optimal results as well as ZO Skin Health treatments that are only available in the office. One of the things I love about my job is that I get to provide excellent solutions for my patients. Another is that I get to deeply research and use the products myself. That means we both benefit!
Why Do I Love ZO Skin Health so Much?
A professional dermatologist, with decades of experience treating skin conditions, created this product line. In 2007 Dr. Obagi founded ZO Skin Health with the intention:
"to develop and deliver innovative skincare solutions that optimize skin health based on the latest advances in skin therapy technologies, unique delivery systems, bioengineered complexes, and exclusive formulations."
ZO Skin Health is committed to training and supporting the physicians and clients, who use their products.
According to ZO's founder, Dr. Obagi, there must be a strong connection between the patient or client and the dermatologist. He believes that there needs to be a continuum between therapeutic treatments and daily care so that patients experience continuously healthy skin regardless of their age, ethnicity, or unique skin condition.
That is why ZO Skin Health provides comprehensive skincare programs and training for physicians and their patients.
ZO Skin Health Is Committed to Actually Caring for the Skin
Unlike many other skincare lines, the ZO team approaches caring for the skin from the perspective that the skin is a living organ, not a barrier. This approach defines:
What is in their products
How their products work
How the treatments are delivered to the skin
Dr. Obagi's products and services have found a way to treat the skin that over-the-counter treatments cannot. Through a series of combined procedures, he has found a way to control the skin at the cellular level.
The comprehensive and consistent combination of science and skin health is what makes the ZO Skin Health line successful.  ZO strives to utilize the best of what science has to offer to improve the skin's natural functions to prevent or resolve many skin disorders.
Who Is the Mastermind Behind ZO Skin Health?
I keep referring to Dr. Obagi, so let's go a little more in-depth on his background. Dr. Zein Obagi is a board-certified practicing Dermatologist, world-renowned skincare expert, award-winning inventor, educator, and author.
He earned his medical degree from Damascus Medical School, completed his residency in pathology at the William Beaumont Hospital in Royal Oak, Michigan, and completed a one-year residency in obstetrics at the Henry Ford Hospital in Detroit.
His certifications, honors, and memberships include:
Certified by the American Board of Dermatology
Diplomate of the American Academy of Dermatology
Fellow of the American Medical Association
Fellow of the American Academy of Cosmetic Surgery
Member of the:

American Society of Dermatologic Surgery
International Society of Dermatology
Society of Investigative Dermatology
American Academy of Aesthetic and Restorative Surgery
Mission: Explain Skin Health
Dr. Obagi's initial mission was to explain skin health. He eventually defined skin health as skin that is naturally smooth, strong, firm, even-toned, hydrated, and free of disease. This definition was quickly picked up by respected colleagues in the fields of dermatology and plastic surgery.
Before his explanation of skin health, physicians had been much more diagnosis focused— this new definition allowed them to determine more appropriate solutions to a patient's concern, rather than merely focusing on a diagnosis.
His pioneering definition of skin health also included a Skin Classification System that enabled physicians to ascertain the best treatments and anticipate patient responses based on a person's ethnicity and skin type.
Pioneer: Skin as a Science
Dr. Obagi was the first medical pioneer to conceive "new skin" as a science. He also coined the term "Science of Skin Health," which defined skincare to include creating and maintaining healthy skin.
To share his knowledge, Dr. Obagi authored several best selling books, including Obagi Skin Health Restoration & Rejuvenation (1999) and The Art of Skin Health Restoration & Rejuvenation: The Science of Clinical Practice (2015).
Dr. Obagi created over-the-counter skincare products, but in 2006, he left the regular retail skincare business and developed a revolutionary skincare brand, unlike anything you can find at your average beauty supply store, ZO Skin Health.
Introducing: The Product Line
This line looks to science for developing products that create and maintain healthy skin for life – for all patients. Their products can be broken down into ten straightforward categories:
Cleanse
Exfoliate
Tone
Anti-Aging
Brightening
Acne Redness
Protection
Eye Hydration and Calming
Body supplements
Aside from what is available to the public, ZO Skin Health also offers a line of products that are available only to physicians. These peels and serums can only be used in-office and are available to complement the at-home protocols.
They also offer whole programs and kits that treat specific skin conditions.
Feeling Good About Yourself Starts From the Inside, but the Outside Is Just as Important!
This line provides solutions to several skin concerns and goals and is well worth the investment. This skincare line provides innovative solutions to restore a youthful glow and establish an effective skincare routine.
I am proud to carry this skincare line at Silhouette Health and Wellness. I am also proud of our great team! My team is here to help you find the best products for your needs.
Each of our team members has access to incredible:
Training
Educational programs
Seminars
Additional resources
These resources allow us to help our patients find the best match for their skin, regardless of age or unique skin condition. Get in touch for more information!
Resources
Summary
Article Name
ZO® Skin Health - Every Skin's Solution
Description
Contact us for an innovative solution to restore your youthful glow and establish an effective skincare routine with ZO Skin Health!